We're sorry to see you leave, but if you're sure, here's how to cancel your Signaturit's liecense/account
Important:
1. The moment you cancel your account, you won't be able to continue sending requests, the action is immediate.
2. You will always have access to your account and requests, but you won't be able to send any more requests.
3. Pending requests will continue its course and you will receive notifications and will be able to download them.
Instructions to cancel your license/account
Go to your settings menu on the top right and click on "My Account"
Once there, tap on "Billing", scroll down and click on "Cancel: Do you want to deactivate your account?".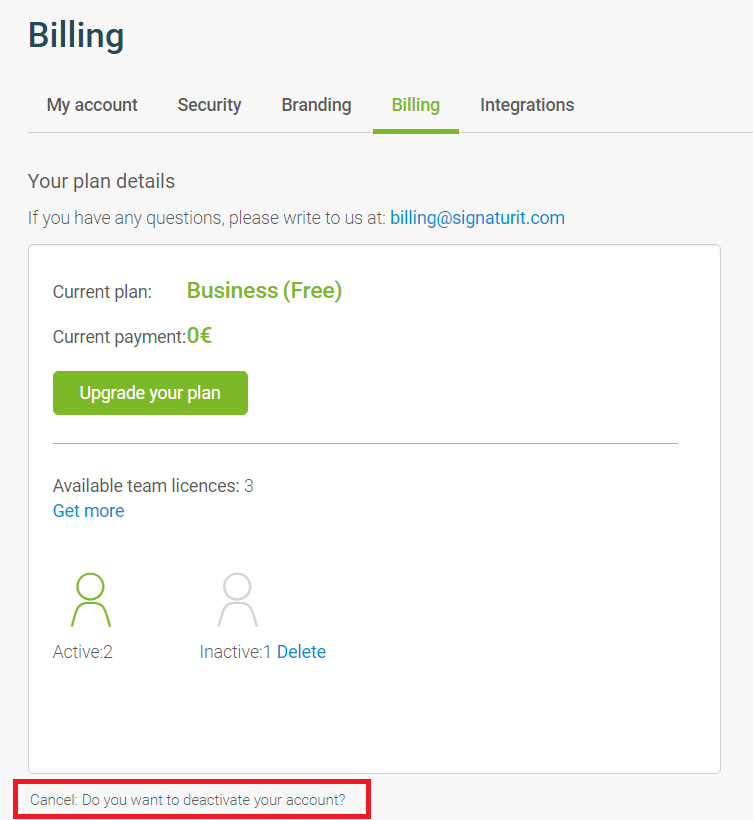 When you click, a pop-up window will appear and you'll be asked for the reasons of your cancellation. Please, give us feedback so that we can improve in the future. We will take them into account and we will implement them.
You'll be asked for further plans in case you are interested in one. If not, click on "Next" to permanently cancel your account.
If you have any issue cancelling your account or if you are interested in a custom plan, don't hesitate to contact us.