When the signature process is completed, the signed document will be available to download. Remember that you can always download a document in progress, although you need to keep in mind that it won't have all the legal guarantees.
Our certification process is only activated when the document has been completed by all the signers. Therefore, in order to see the certifications in the signed document, it is necessary for all parties to have signed the document and for it to be registered as "Completed".
From the three dots icon:
Search for the document in status "Completed" and click on the three dots icon. Click on "Download document" to start downloading it.

From the request's details:
Click on the document to enter the details window and click on "Details" on the right side of the screen.

Click on "Download document" to start the downloading process.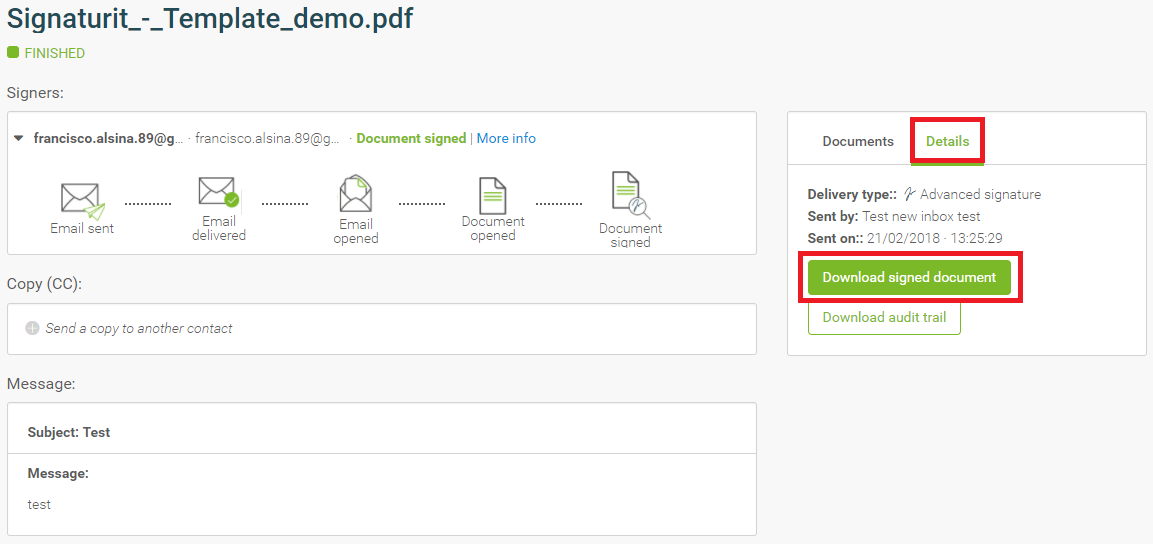 Download documents many documents at the same time:
Sometimes you might need to download many documents at the same time. In the following we explain the steps you should follow for downloading them.
First of all you should click on the section "completed" in "requests":

If you put the mouse pointer on the left of any of the requests a checkbox will be displayed:

When clicking on any of the checkboxes on the left of the signature request, a new menu on the top will appear. This will allow you to select all the requests and choose what you want to do:

These are the available actions you can do: download the signed documents, download the audit trails and archive the requests.