Keep control of your credits and buy more if you need to. This will help you plan your requests or SMS. 
Enter your Signaturit account and take a look at the top menu:

 If you hover over each request, you will see the percentage of usage and how many you've spent until now.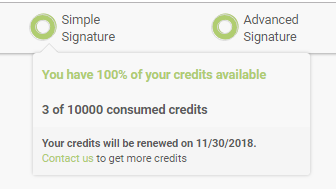 Below every section you will find a link. Click to buy batch credits o SMS credits and click on "Upgrade your plan" to change your plan.
Next, we will explain the meaning of the colored circles:
From 80% to 20%:
From 10% to 0%: