The Electronic Signature Stamp with QTSP logo guarantees the integrity of documents and you can now include it on the back of your documents to be signed. The ESS is a secure key generated by a math algorithm that combines letters and numbers and is unequivocally linked to each PDF. 
What does the Electronic Signature Stamp include?
Our new Electronic Signature Stamp includes:
1. The exclusive ID of your Electronic Signature request for Advanced Electronic Signature and Simple Electronic Signature requests.
2. The exact date and time (in UTC) of when the document was signed.
3. The QTSP (Qualified Trust Service Provider) logo through us, Signaturit, as a qualified provider of trust services. This guarantees the security, legality and authenticity of all information and signatures provided in any request.
This improvement will strengthen the bond between our signed documents and their respective audit trails, which will also show the corresponding ESS of each signature request. Our signed documents are thus reinforced in terms of trust and security.
How to activate the Electronic Signature Stamp in the documents you send:
FOR DASHBOARD USERS
1. Click on the top right menu and select 'Branding'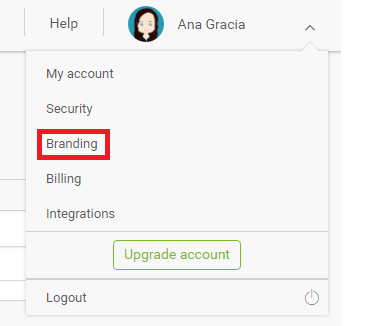 2. Select the Electronic Signature Stamp option with the QTSP logo and tap on Save changes.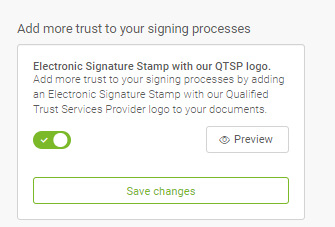 FOR API USERS
Make a Create Branding call with the parameter: show_csv=1.